Larry's Favorite
Christian Links
---
Welcome to your gateway to The Best Christian Places on the Web. It is our prayer that some resource on his page will help you in your personal walk with Jesus Christ.
---
New Category Listings:
---
Listen to our Favorite Christian Radio Station, WRMB, from Anywhere.
New Interesting Additions:
---
Great Starting Points:
Various respected Christian Ministries join together to tackle your tough questions about life and the Christian faith.
---
---
---
Virtual Blessings For Encouragement & Support:
---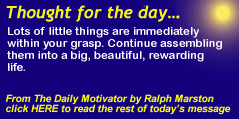 ---
---
Christian Directories:
---
Christian Resource Sites:
---
---
Christian Ministries:
---
Some Real Interesting Stuff:
---
Christian Missions:
---
Church/Denominational Sites:
---
Christian Music Links:
Christian MIDIs:
Christian Hymns:
Christian Artists/Music Companies:
Christian Guitar Music:
---
"Make a Joyful Noise to the Lord!"
---
Christian Education:
---
Renewal Ministries-Cursillo Info:
---
Christian Magazines/Newsletters:
---
Christian Business People:
---
Christian Men's Ministry
---
---
Christian Family and Finances:
---
Defending the Faith-Apologetics:
---
Christian News, Radio, and TV:
---
Christian Software:
---
Christian Commerical Sites:
---
---
Faithful Friends Nursing Home Ministry, Inc.
Larry & Sandy Wasserman
Raleigh, North Carolina
A 501 (c)(3) Non Profit Organization

---